FREE Friday Flicks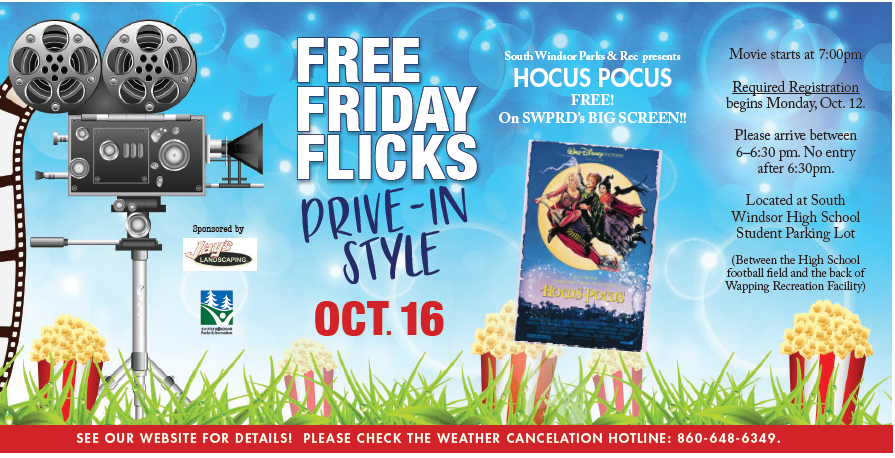 FREE! Presented by South Windsor Parks and Recreation and Jay's Landscaping
South Windsor Parks and Recreation's Free Friday Flicks! Drive-In Style!
October 16, 2020 "Hocus Pocus" 7:00 pm
Registration is required
Please arrive between 6:00pm and 6:30 pm. No entry after 6:30pm.
Located at South Windsor High School Student Parking Lot
(Between the High School football field and the back of Wapping Recreation Facility)
In order to insure your family's safety, please adhere to the following guidelines as outlined by the state of Connecticut and the Town of South Windsor:
· In compliance with current social distancing guidelines , space and availability is limited.
· Upon arrival, SWPRD staff will check your vehicle in and assist with parking. Cars will be parked in the order they arrive. Registration is required.
· Please remain in (or on)your vehicle throughout the evening. Movie audio will be broadcast over 88.3 FM.
· Masks are required when walking to portolet.
· Port-o-lets are available if needed. They will be lit and cleaned periodically throughout the evening. Please practice social distancing when walking to and from the port-o-lets and if in line.
· During the movie, please leave car headlights off.
· For everyone's safety, please refrain from leaving before the movie has ended.
You only need to register once for each car full!
In the event of questionable weather, please check the cancellation hotline 860-648-6349
Thank you for your cooperation! Enjoy the show!