Welcome to South Windsor Parks & Recreation's Day Camps!
We take pride in our camp programs, and each is uniquely designed to fit you and your child's needs. This summer, we will have three camp programs held at SWPRD's home base: Wapping Parks and Recreation Facility! We are pleased with the convenience of having a one-stop-shop for all camps at this cohesive location and are excited that each camp will continue to remain its own separate entity. We believe summer camp is about having fun, making friendships, teamwork, and of course, recreating! We can't wait to see you there!
Important Information Before Registering!
Check our Facebook page for a registration start date. Spottsville quickly and we don't want you to miss out on all the summer fun!
Ben E.'s Hibernation station and before and after care our separate registrations.
Little Explorers, Camp Discovery, and Adventure Unit are NUT FREE camps. Please do not send your child to camp with any nut products. This includes peanut butter sandwiches. Please reference our parent handbook on the bottom website for more information.
During registration, payment may be made in full or you will have an option to have a payment plan created for you. Full payments will be due one week prior to the program start date in order to attend. Extended day programs must be paid in full at the time of registration.
Every year, campers must fill out a health history form with updated information prior to the start of camp. Continuing this year, to the convenience of our users and camp staff, we are using online forms through ePACT. Having registered for a camp program, you will receive an email prompting you to fill out the necessary paperwork online about a week or two prior to the start of your session. If we do not have your medical form, your child will not be able to attend camp for safety reasons. Our forms do not require a doctor's signature.
Full-Time RN For Camps
Continuing this year, we will have a registered nurse on-site during all program hours. This nurse will be available for Little Explorers, Camp Discovery, and Adventure Unit while they are on site. We will continue the medical administration and first aid training of our management staff and have an acting first aid responder when and if camps travel offsite for field trips. Our camps nurses' email is Nurse.swprd@gmail.com
Our staff is the strength of our day camps. We continuously have a competitive hiring pool for top-of-the-line employees. Our counselors have the ability to make connections with your children on the playground, highlight the value of teamwork during group game activities and teach patience and creativity during arts & crafts, all while acting as mentors to our campers. Additionally, all camp personnel is trained in standard first aid, and CPR and have training on blood-borne pathogens, child development, child abuse recognition, and reporting, diversity awareness, positive discipline, games, leadership, and much more.
Camp Registration
For more information or to register click REGISTER
Ben E.'s Hibernation Station
Ben E.'s Hibernation Station it's an opportunity for your camper to pick a special treat to have after lunch when we're at VMP!
This is for any camper at Camp Discovery or Adventure Unit. Also, this is completely optional!
A membership is required to choose one ice cream or candy per day. Campers will use this when we travel to VMP. This will be the only way a camper can get ice cream or candy while at VMP. Items are typically around $1 or $2 and the choices will vary throughout the summer. Memberships come in denominations of $2, $5, $10, or $20. Sign up prior to the start of your session. Balances will carry throughout summer 2022 only! This is nonrefundable and non-transmittable. Parents are asked not to bring cash to camp/VMP and memberships may be purchased throughout the summer! Don't miss out on this tasty treat!
To register for your Ben E's Hibernation Station Pass click
here
.
Little Explorer Schedule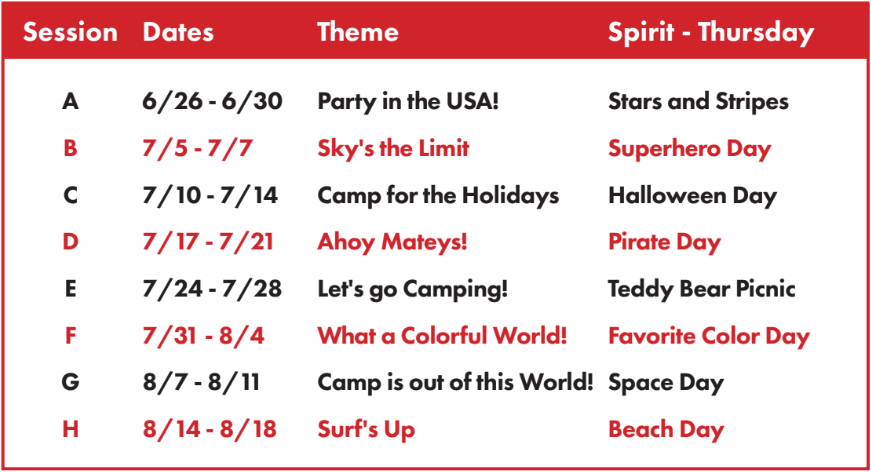 Camp Discovery Schedule

Adventure Unit Schedule