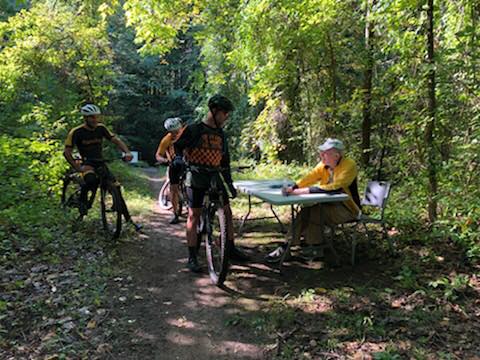 Sponsored by: The Bike Shop
Check out our annual Poker Ryed! Four trails, four miles,
three or four laps, five or seven cards!
This event involves riding your bike to five or seven different stops, drawing a playing card at each stop, and trying to assemble the best poker hand you can. The top hand will be awarded a CASH prize of half of all proceeds. The route will consist of singletrack.
Eight bridges, six downhills, endless roots, and one skinny ride on the tight twisty trails created by the SWPRD Parks Crew. You will cross and recross dry brook as the terrain meanders through the hills and valleys hidden in woods of Rye Street Park.
This family-friendly event is not a race! All experience levels welcomed. Come and try your luck to create a winning hand!
$10 event fee includes, one shirt, and one raffle ticket.
Online registration is encouraged. In-person registration begins at 12:30 p.m. on the day of, and the ride start window will be 1:00 p.m. - 3:00 p.m.. Our Ryed will be held at Rye Street Park (get it??) along with The Bike Shop, South Windsor Walk and Wheel Ways.
September 12th (Rain Date 9/13)
Rye Street Park
1:00 p.m. - 3:00 p.m.