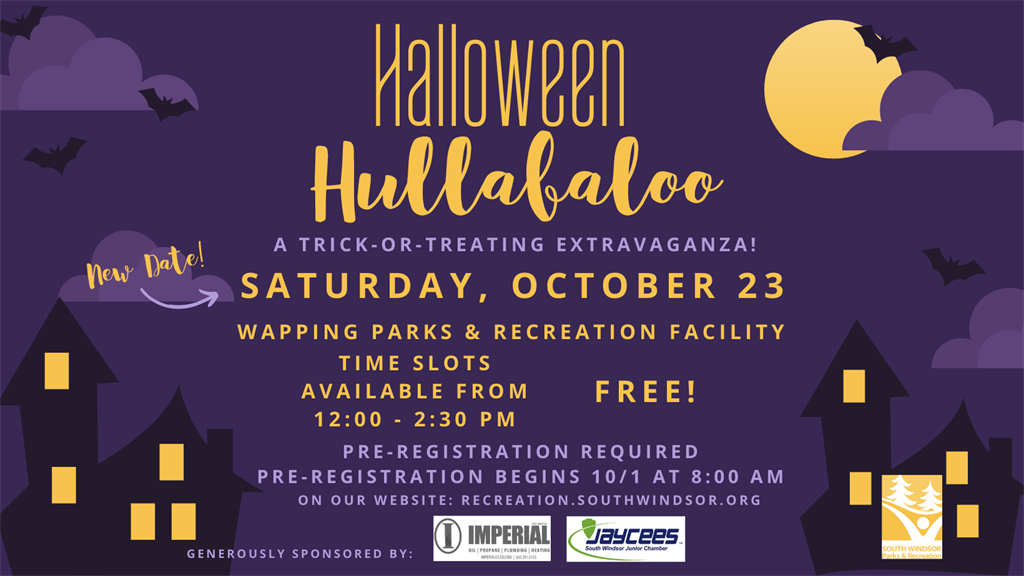 Information
Come join SWPRD for our annual trick-or-treating hullabaloo! Inside the Wapping Parks and Recreation Facility, over 20 different doors will be decked out in Halloween spirit, and there will be plenty of treats for everyone at this free event!
**PRE-REGISTRATION IS REQUIRED TO ATTEND THIS EVENT**
- Pre-registration is available on our website,
recreation.southwindsor.org
, beginning on Friday, 10/1 at 8:00 AM
- Please register ONCE per family, and in the custom question section prior to check-out, please be sure to let us know the number of children in your family so we can prepare accordingly!
Saturday, October 23, 2021
Wapping Parks and Recreation Facility
Time Slots:
12:00 - 12:30 PM
12:30 - 1:00 PM
1:00 - 1:30 PM
1:30 - 2:00 PM
2:00 - 2:30 PM
*Limited number of slots available within each time frame.
Please arrive at the Wapping Parks and Recreation Facility (91 Ayers Road) ANY TIME within your pre-registered time slot. Staff will check you in and let you know when to start the Hullabaloo! We appreciate your cooperation in making this event successful for everyone. The trick or treating will follow a specific route within the Wapping Parks and Recreation Facility to maximize social distancing for a safe and fun event.
**Masks are required for all participants and volunteers ages 3 and older for the duration of this event**
Brought to you by the South Windsor Parks and Recreation Department and generously sponsored by Imperial Oil and Plumbing and the South Windsor Jaycees!